Christening Ceremony for Next-Generation LNG Carrier
Mitsubishi Shipbuilding Holds Christening Ceremony for Next-Generation LNG Carrier "NOHSHU MARU"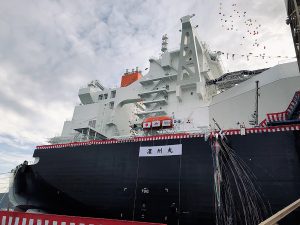 Mitsubishi Shipbuilding Co., Ltd., a Group company of Mitsubishi Heavy Industries, Ltd. (MHI) based in Yokohama, held a christening ceremony today for a next-generation LNG (liquefied natural gas) carrier under construction for TRANS PACIFIC SHIPPING 5 LTD.
The new ship, named NOHSHU MARU, is the fourth vessel of the latest model "Sayaringo STaGE" type, featuring significant improvements in both LNG carrying capacity and fuel performance.This is an environment-friendly, economically superior design, which achieves a further reduction in fuel cost while minimizing CO2 emissions.
Technical details – Nohshu Maru
• Length: 297.5m
• Breadth: 48.94m
• Draft: 12.9m
• LNG tank: MOSS independent stretched spherical type tank system (with continuous tank cover)
• Deadweight tonnage: 149,367 tons
• Tank capacity: About 177,300m3 – Actual loading capacity in total LNG tank capacity 180,000m3
• Main engine: Reheating system steam turbine, electric propulsion motor
• Speed: 19.5 knots
Completion and delivery is scheduled for February 2019, after which the NOHSHU MARU will be put into service, transporting LNG for the Freeport LNG Project in the U.S. state of Texas (in which JERA is participating), among other ventures.
To read the full article, please click here.
Please note, you'll be redirected to the MHI Global website (www.mhi.com).