LAUNCH SERVICES: BRINGING THE FUTURE TO OUTER SPACE
Based on the Technology for Manufacturing Rockets, MHI Supports Research and Observations of Outer Space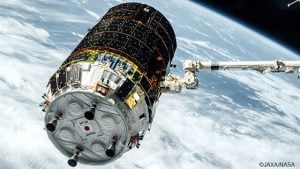 Technologies developed in space is now very much a part of everyday lives. For example, satellites are instrumental in forecasting weather, monitoring disasters, and observing the global environment, and people on the Earth benefit greatly through having unmanned supply spacecraft* transport essential materials to the International Space Station (ISS).
MHI is one of only a few companies involved in launch programs, from manufacturing to the launching of the rocket — a critical component for space transport. This article examines how MHI accurately delivers a customer's payload to a target orbit on a target date and time.
*The HTV unmanned supply spacecraft, known as "KOUNOTORI," was independently developed in Japan to transport cargo to the ISS and is carried aloft by the H-IIB launch vehicle.
To read the full article, please click here.
Please note, you'll be redirected to the MHI Global website (www.mhi.com).