MHI partners with Mainfreight New Zealand
Mitsubishi Heavy Industries is proud to announce its new joint partnership with Mainfreight New Zealand. Starting in April 2018, Mainfreight will be responsible for all warehousing and distribution of MHI's range of residential and commercial heat pumps across New Zealand.
For Mitsubishi Heavy Industries this partnership will bring about a new success across the New Zealand market. The company itself will be able to ensure that its products are delivered to customers in New Zealand in a safe and effective manner.
"Along with being responsible for the distribution of our products, Mainfreight will also be warehousing all our units which will help to reduce the order to distribution and delivery process"-Adrian Brown, National Sales Manager, MHI.
As an organisation that started in New Zealand, Mainfreight brings an extensive and unrivalled knowledge of the New Zealand landscape which will be imperative to MHIAAs continued success in the region.
"Partnering with Mainfreight will ensure that we are able to deliver our products to our customers in New Zealand in a faster and effective manner. Their extensive knowledge of warehousing and distribution will be invaluable to the growth and success of MHI in New Zealand." -Adrian Brown.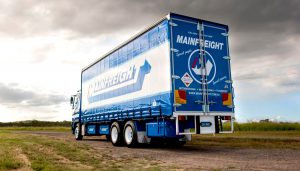 As an organisation, Mainfreight's company culture and philosophy closely aligns with the principles that underpin all aspects of MHI. For Mainfreight, the organisation focuses on developing and implementing environmentally sustainable practices that foster a clean, safe and healthy environment for their team and the country in which they operate. By partnering with Mainfreight, MHI is able to ensure that it develops not only sustainable products for its consumers but also that the warehousing and distribution of these products is done in a sustainable way.
"MHI is excited to be a part of this joint venture with Mainfreight. As a company we are committed to this partnership and the success that will follow for us both"-Adrian Brown.
Both MHI and Mainfreight are committed to ensuring the success of both organisations in the coming years. The joint partnership between the two will not only create and expand MHI's reach across New Zealand but also foster sustainable and ethical business practices for both companies.