Discounted efficient air conditioner offer for NSW households and businesses
For a limited time, the NSW Government is offering NSW households and business a discount on energy efficient air conditioners.
By installing an energy efficient air conditioner (indicated by a high star energy rating) you can save money on running costs while helping the environment.
What's the discount?
The discount varies depending on the size of the air conditioner you choose to install. Only a select few of highly energy efficient models are eligible.  Please speak with your your Air Conditioning Incentives (ACI) approved MHIAA installer if the unit you are looking at qualifies for the discount prior to installing.
| | | |
| --- | --- | --- |
| Incentive | Capacity | Minimum Star Rating |
| $200 | ≤ 4kW | 5.5 stars heating + 5 stars cooling (or vice versa) |
| $500 | 4kW to ≤ 10kW | 4 stars (AEER and COP ≥ 4.25 stars) |
| $1000 | >10 kW | 3.5 stars (AEER and COP ≥ 4 stars) |
Eligible MHIAA systems
Below is a list of eligible MHIAA products which include the 2.0kW and 2.5kW models of our new Avanti PLUS series
How do NSW households and small businesses get this offer?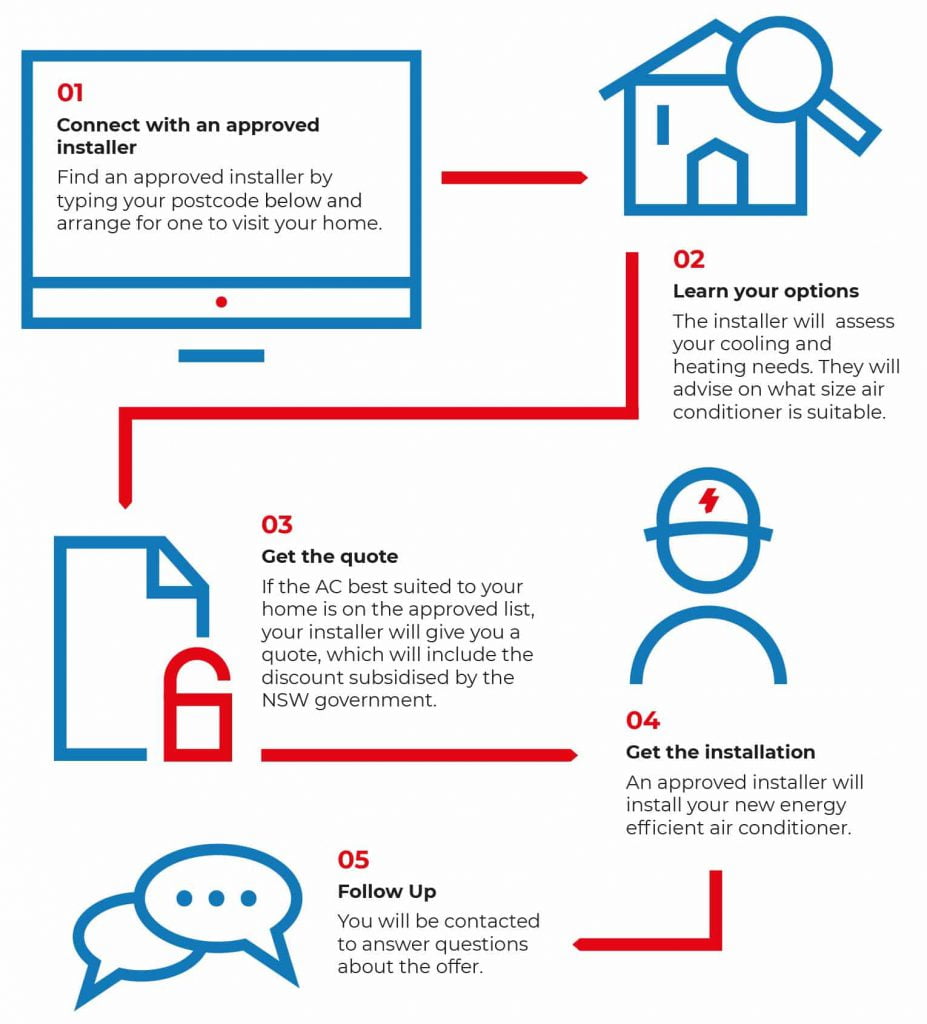 Am I eligible to receive this offer?
In order to be eligible for this offer you'll need to:
be a NSW resident
buy an eligible air conditioner
use an approved installer to purchase and install your air conditioner
own your home or have approval from your landlord to install the air conditioner
consent to your data being collected by www.energysaver.nsw.gov.au (for more information please click here).
how do i get a quote?
You can get a quote for one of the above air conditioners by speaking to one of our Air+ Dealers. Click here to find your closest Air+ dealer.
more information
This NSW Government Energy Saver discount on air conditioner offer ends in April 2020 or until funds have been fully allocated. For more information please download the following brochures or for full details, go to: www.energysaver.nsw.gov.au